Dear Steve, Yu Kai Yeung,
I hoped I could find you at the electronica in Munich yesterday to talk to you face to face, so I try to describe our task here: we are developing a customer handheld device which needs a quite accurate (low deviation on) position.
We recently got a GNSS chipset that also uses L5 band data and claims to have a better positioning – therefore we need a new antenna.
Unfortunately, we cannot spend more than ~13x13 or ~16x10mm at the edge of our PCB because the rest is covered by a shielded display and mechanics – therefore available patch antennas with >20x20mm are not possible.
We found your small ceramic antenna might fit our needs, but we are anxious that the performance is degraded too much with our mechanical limitations.
Would you please assist us with tips and simulations to get the best out of the antenna?
To meet our project plan target, we need to design-in the antenna on our upcoming prototype until mid of December (this year ;-) ) to order the PCBs before the Christmas holiday.
Attached is a 1:1 scaled sketch of the PCB with the position of the Antenna, the digital and Analog GND planes and the display (which is ground-shielded at the backside approx. 3.5mm above the PCB surface):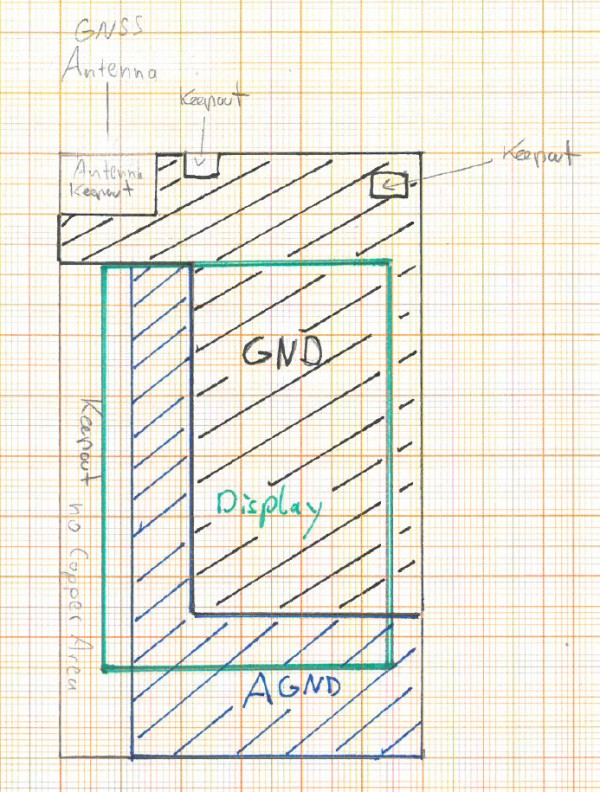 The two other small keeput regions might be moved a little bit, but as we have to locate mechanical switches to the top we cannot move the antenna to the center anyway.
Looking forward for your answer :)
best regards,
Benjamin